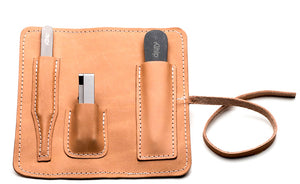 Klhip Kit
Sale price Price $229.95 Regular price
Hangnail can strike at any time. Good job then, you've got the Klhip Travel Collection. Like having a jaguar fetch your morning paper, this stunning travel kit is completely overqualified for just tidying your fingernails on the go. But damn, does it feel good. The soft tan leather pouch houses three precision-engineered tools: our trademark Klhip Nail Clipper, Klhip Nail File and Klhip Titanium Fine Point Tweezer. Treat yourself to a little luxury in your lunch break.
Klhip Kit Features
A

Klhip Clipper: The original, award-winning, ergonomically correct nail clipper.

B

Klhip Nail File: Carved from beautiful natural stone from the Pyrenees mountains.

C

Klhip Titanium Fine Point Tweezer: Made from titanium and hand-finished. You'll pray for a splinter.

D

All-natural leather pouch: Designed to soak up life's knocks, it just gets better with age.
Shipping / Warranty
FREE Shipping
We offer FREE domestic shipping (USPS First–Class). You may also upgrade to USPS Priority Mail for $7 or FedEx 2–Day for $20. For all methods of shipping and international availability please click here: More >
Guarantee:
We designed and built The Ultimate Clipper to the highest quality standards. More >
Patents
United States
US Utility (issued) 9204703
US Design 1 – D629161
US Design 2 – D639509
US Design 3 – D639510
Foreign
EU Utility – 2 340 738
EU Design 1 – 001725334–001
EU Design 2 – 001725334–002
EU Design 3 – 001725334–003
Japan Utility – 5859199
Japan Design – 1410837
Testimonials
One Badass Nail Clipper
Klhip's technology produces a more effective, more ergonomic and much, much better–looking clipper. They have it right: "Conventional nail clippers are backwards; they're controlled from the wrong end." That leads to less than ideal control and cutting power...GQ
View Testimonials >
Awards
2012 – Wallpaper* Design
2010 – I.D. Design Distinction
2010 – Good Design™